Personal web page of M. Capobianco
Contact Information (información de contacto)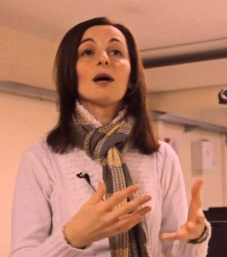 Marcela Capobianco


(mc at cs.uns.edu.ar)
Departarmento de Ciencias e Ingeniería de la Computación
Universidad Nacional del Sur
Av. Alem 1253, Bahía Blanca,
Buenos Aires, ARGENTINA
TE: (54) (291) 459-5135
FAX: (54) (291) 459-5136






Teaching (docencia)

Courses

Research (investigación)

Main Interests
Defeasible Argumentation and Defeasible Logic Programming
Formal Models for Knowledge Representation and Reasoning
Web Minning
Electronic Government
Information Technology Audit
Phd's Thesis
Argumentación rebatible en entornos dinámicos. (Defeasible reasoning in dynamic environments). Available as: [PDF] [PS] [PSZ] [BiBTeX]
Selected Publications
Argument-based Mixed Recommenders and their Application to Movie Suggestion. C. Briguez, M. Budan, C. Deagustini, A. Maguitman, M. Capobianco, G. Simari. In Expert Systems with Applications, 2014.
A Theoretical Framework for Trust-based News Recommender Systems and its Implementation using Defeasible Argumentation. C. Briguez, A. Maguitman, M. Capobianco. In Artificial Intelligence Tools, 2013.
On the Development of a Formal Methodology for Knwoledge Representation in Defeasible Logic Programming. A. G. Stankevicius, M. Capobianco. In Advances in Artificial Intelligence - SBIA 2012, 2012.
An Argument-Based Multi-Agent System for Information Integration. M. Capobianco, G. Simari. In Argumentation and Multiagent Systems - ArgMas 2011, 2011.
A Proposal for Making Argumentation Computationally Capable of Handling Large Repositories of Uncertain Data. M. Capobianco, G. Simari. In Third International Conference on Scalable Uncertain Management - SUM 2009, 2009.
On the Construction of Dialectical Databases. M. Capobianco, C. Chesñevar, G. Simari. In Iberoamerican Journal of Artificial Intelligence, 2007.
Argumentation and the Dynamics of Warrant in Changing Environments. M. Capobianco, C.I. Chesñevar and G.R. Simari. In Journal of Autonomous Agents and Multiagent Systems, 2005.
Personal Interests (intereses personales)
Veganism is a topic I'm specially interested in, the web of the vegetarian union might give your an answer if your wonder why people do willingly stop eating meat and other animal derivatives. My husband and I are vegan and I like cooking vegan meals as a personal hobby.
---